"What am I gonna do with all this crap?" -- Tales of a Recovering Gear-A-Holic
Any addiction makes messes...relationally, personally, physically...
I've made positive headway on all fronts I think from the last year or two, but I was out in the shop the other night looking for a couple parts for a buddy and for the first time in awhile I really looked around. I'm out there every day but its pretty easy to just pretend I don't see it all but it was time I really looked again, and I said to myself "What am I gonna do with all this
crap
?"
I recall a thread sometime back by...technoplayer? An estate sale of somebody who was obviously a hoarder and it was scary-sad. My "mess" isn't to that level but its not good, so I thought I'd
rhetorically
ask the question above and put up some pics of the mess. Maybe it will deter some of you from that next unnecessary purchase, or give you a nudge to keep you on-track for the sake of those that are counting on you.
Of course, if y'all want to comment let 'er rip...after all its a public forum.
Disclaimer: since moving here about 6 years ago its been a challenge to come up for air and really organize the shop, and right now is at an all-time worst because the shop has become storage for everything that was in our old garage and enclosed porch due to our remodel, as well as housing my friend's woodworking equipment while he's away on a long-term mission...and we stocked up on hay (3 tons worth) a couple months ago. Excuses, excuses. Anyway, that does explain
some
of the state of things but I certainly haven't made things better.
On to the "crap".
Ampex 34U rack...can't bring myself to get rid of it...don't
need
it but it is a matching unit with my Ampex MM-1000...does a nifty job of housing my drum rug.
How about an Ampex 440 rolling console? This one is slated for the 440C I have that's in need of a headblock and some fixin'...the console is in good shape...will clean up nice and I have 4 sets of the electronics risers for it. The clincher: don't need another halftrack...really like my BR-20T.
What's this? A
nother
Ampex 440 rolling console? This one even has a transport in it...440B 1/4" fulltrack. It works. Needs some fixin'. Console isn't as nice...was actually the console for my parted-out 440B-8. The clincher: not really interested in having a fulltrack machine. Could easily convert this to halftrack, but I don't
need
another halftr...wait...already said that...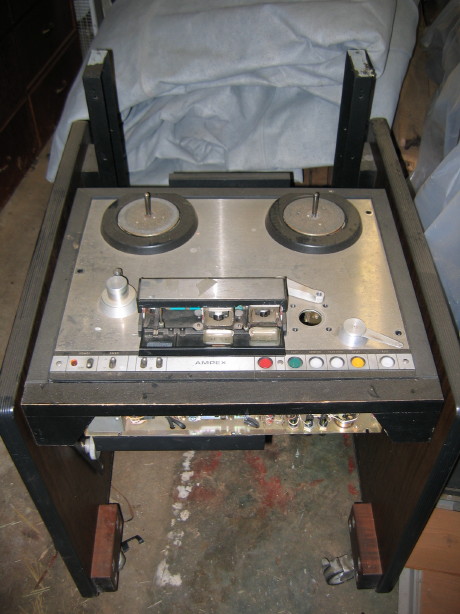 Oh
look!
Is that a 440 transport??? Okay...that one is mostly stripped...that's the Russ Lang console that I have tried to
GIVE
away for the last 3 or so months. Keeps that side of the hay bales from toppling though...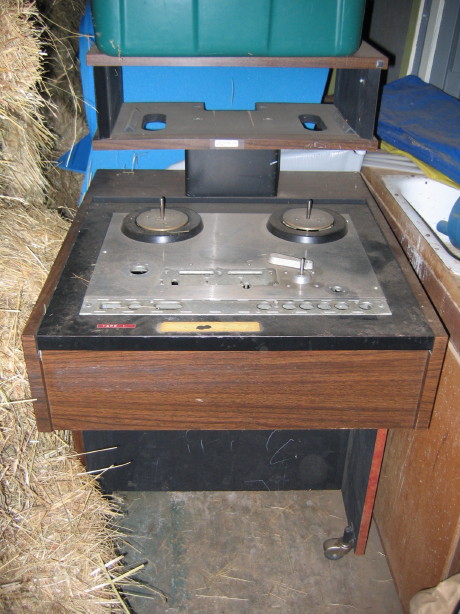 From left to right:
Sony TC-630
consumer quarter-track...box of tapes on top...that's the machine I grew up with...needs some help; a whole stack-o 440B and 440C electronics modules for parts; miscellaneous 440-8 parts; boxes of snakes and cabling and Tascam M-300B parts; next stack of boxes? Caps, caps and more caps...some IC's and other semiconductors, a spare TimeLine Micro Lynx system, miscellaneous Ampex parts for sale, and a crazy array of jacks and plugs for making up cables; a spare 388; records and tapes on the right; some of the drawers below are full of audio stuff...one drawer is just stuffed full of miscellaneous cables and cable-making stuff...bulk snake cable, etc...another two drawers are Ampex stuff, 440 and MM-1000 stuff...headblocks for the MM-1000, NOS reel motors and such for the 440 series...don't even really remember what all is in there but its stuff I determined at some point was for sure "keeper" stuff...
There's the 440C on the left...I
think
there are MM-1000 related bits behind that like power supplies...can't remember, but stuff for the 2" conversion IIRC, and, yep, that's the Tascam M-__ mixer there on the right. Now here's the kicker: that's a sizeable rolling work-table those things are sitting on and its an enclosed cabinet below which is *chock* full of stuff. Mostly Ampex and mostly MM-1000. A good portion of it is for the 2" conversion, like the amplifier electronics modules for channels 9~16 are down there...more spare power supplies...spare reel motor, spare sync boxes...all the spare stuff that came with the MM-1000. There are also some Tascam bits down there...wire harnessing I kept from the 48 I parted out...good for repairs...oh and the main transformer and power supply from the 48...a bunch of those nice tall ALPS long-throw faders...jacks...knob and switch caps...*sigh*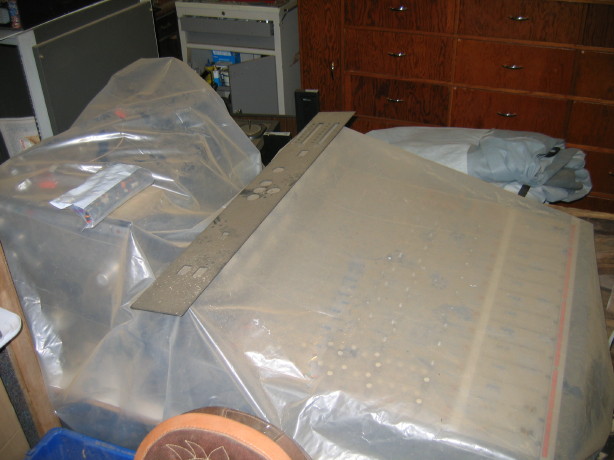 Last but not least, before I was an audio gear freak I was a drum freak. Again, part of a strange process of seemingly trying and going through all kinds of things, eventually settling. I did settle on a drum set...one I made, but lots of leftovers...marching percussion, vintage Pearl kit I'd like to finish refurbing for a different sound...hardware...Rototoms...oy...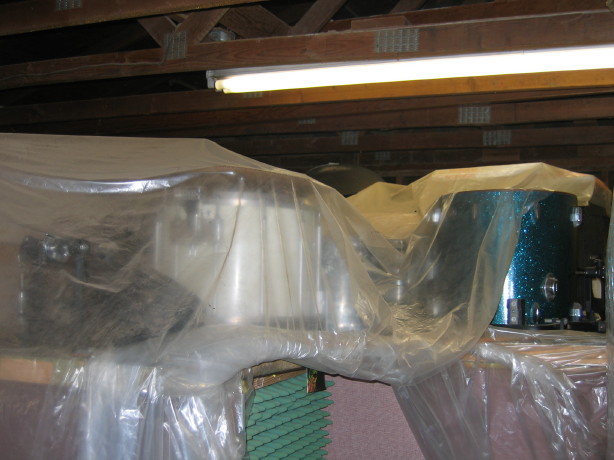 Right below those drums is the odd little hovel that used to be my "studio"...made out of office partition panels...about 6' x 8' inside and a towering 44" tall...watch your head. The Soundtracs MX mixer is tipped on its back leaning up against the side...right now all the more critical known keeper stuff is inside. My drums, the rack with the BR-20T and all the mastering stuff...computer...388...bass combo amp...mics...monitors. Yes its tight in there.
What a mess.
Bit by bit I see this straigtening out with the new studio room. Only the known keeper stuff is going in there and what gets left out is kind of where the question in the thread title comes from. Feng shui my a**.