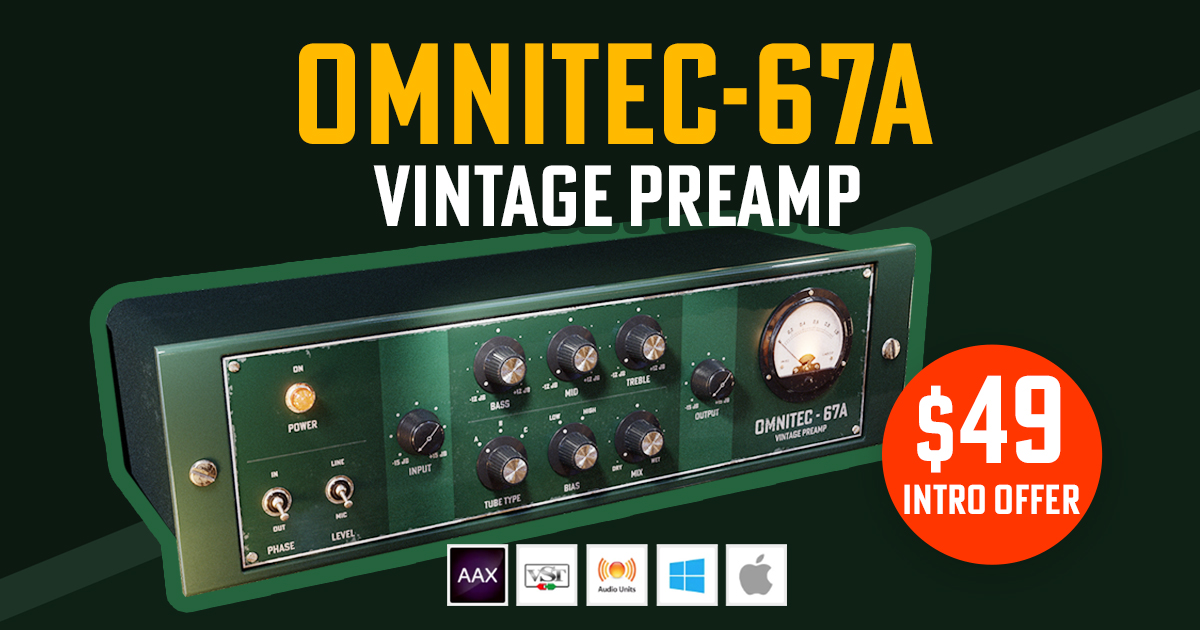 INTRODUCING THE OMNITEC-67A
We are excited to share our brand new vintage emulation plug-in with you: the OmniTec-67A Vintage Tube Preamp.
The OmniTec-67A turns even the most sterile of signals into a rich-sounding production by introducing lush vintage tube saturation and that 1567A sparkle! From gritty vocals to saturated drums and harmonically complex mixes, this classic with a twist can do it all.

This vintage tube preamp plug-in allows you to take your productions to the next level by uncovering a new level of detailed audio customization.
Inspired by the famous Altec 1567A, our latest hardware emulation plug-in features lush tube saturation just like its hardware counterpart, with several new and exciting features - a true Black Rooster Audio vintage classic with a twist! It's the perfect tool to add saturation, harmonics, and subtle distortion to your vocal, bass, and drum tracks!
Key features of the OmniTec-67A:
Inspired by the Altec 1567A vintage tube preamplifier, and includes additional features for that classic Black Rooster Audio twist.
Features 3 tube types, providing you with a variety of options to add warmth and saturation.
Line/Mic switch for basic gain staging.
2 bias voltage options to find the optimal tone for your signal.
Its carefully selected 3-band EQ allows for targeted signal shaping.
SSE2 optimized code ensures a high-performance operation.
HighDPI/Retina support, giving you the best user experience.
The OmniTec-67A is available now for a limited time only for $49 intro offer
-- regular $99.
---> LEARN MORE HERE
rockout
---
--
-